Table Lectern
Table Lectern - Arc 60cm/24" wide - anti reflective film
About this table lectern:
This is a 60cm/24" wide lectern for using on top of a desk with the added advantage of anti reflective film.
Originally design by Stephen Procter for the family court in Sydney; this tabletop version is now widely used in many situations, from committees to corporate presentations.
More about this table lectern:
This pulpit is stable yet lightweight and is easily moved around and stored.
Made in the same high quality stainless steel and acrylic, which Procson insist on, it is both stylish and unobtrusive. The top is 60cm/24" wide, suitable for notes and comes with an anti reflective film. This film is essential in eliminating light reflections on the lectern top if it is used with a projector screen behind it.
Click here to see more about anti reflective film.
If purchasing this lectern, you might want to consider a cover (see in the "you might be interested in" section below) which will help to prolong the life of the lectern top, when not in use. A cover is essential if the lectern is going to be moved around, as it helps to prevent scratches and dust.
Options
We would like to point out that this table lectern is also available in
black
from our
Australian website.
​Our most best selling items are kept in stock in the UK but a wider range is available from
Procson.com.au
. Please note that ordering from our Australian website may take longer for shipping and you will need to pay VAT to HM Customs as it enters the UK.
SKU:
table-lectern-a60ar--b5-s8-t2-p1
Table Lectern - Arc 60cm/24" wide - anti reflective film

Freight
Freight Prices
| | | |
| --- | --- | --- |
| | UK | Europe |
| £0-50 order total | £10 | £10 |
| £50-250 order total | £10 | £20 |
| £250+ order total | £20 | £30 |
Freight Times
| | | |
| --- | --- | --- |
| | UK | Europe |
| Standard freight | 2-3 days | 4-7 days |
- EU/Europe: May take extra time to clear customs in your country.
- Europe: the fastest freight times are to France, Holland, Germany
- Freight times are a guide only. Times may vary.

You might be interested in...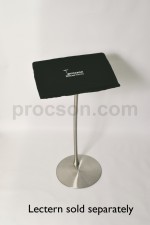 About this pulpit cover - 60cm/24" wide:

Most churches order a cover for the lectern to help protect the top when it's not in use.

Made from elastic edged cotton drill, a cover helps to prolong the life of the lectern by helping to keep the top scratch and dust free. Covers are especially important for tops with anti reflective film....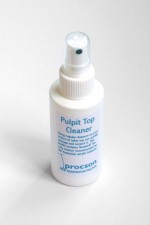 About this Pulpit Cleaner:

To prolong the life of and to clean your lectern and lectern table, we recommend you use Procson Pulpit top Cleaner.
It contains Kunstoff, the only cleaning fluid recommended by the Australian acrylic industry. Kunstoff is a German made anti static cleaning liquid. We do not recommend you using regular cleaners...