Pulpit Cleaner
Pulpit Cleaner 500ml/ 17fl.oz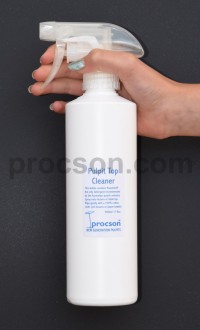 About this Pulpit Cleaner:
To prolong the life of and to clean your lectern and lectern table, we recommend you use Procson Pulpit top Cleaner.
It contains Kunstoff, the only cleaning fluid recommended by the Australian acrylic industry. Kunstoff is a German made anti static cleaning liquid. We do not recommend you using regular cleaners, as they can quickly damage and scratch the top of your lectern or table. Each bottle is 500ml/17fl.oz.
Download church lectern lifting and care brochure.
This details how to keep your church lectern in good condition. It is important to remember that acrylic and stainless steel need different methods for cleaning. Firstly for the clear top, we recommend our bottles of Procson church lectern cleaner. Using this will prevent damaging the top. Heavy fingerprints on the clear plastic can be difficult to remove. In this situation, we recommend purchasing some isopropol alcohol from a chemist or pharmacy. The other stainless steel parts are less sensitive. Often, marks on the stainless steel parts of your lectern can be removed simply by rubbing them with your finger. In situations when the mark is more difficult to remove, try using a 'Staedtler' or similar high quality brand eraser. This probably sounds strange, but most marks on the stainless steel parts will be effectively removed in this way.
The pdf also covers the effective lifting. There are may ways to do this, but one way is to lift it from under the top. You can make a fist with your hands to avoid fingerprints on the top. If you are a stage manager and need to get it on and off quickly this might not work so well. In this case try holding the stem half way down with one hand and hold the edge of the top with the other. This is how Hillsong church lectern gets moved by the efficient stage assistants there.
Sorry! At the moment we can only send this within the UK (courier restrictions.)
Pulpit Cleaner 500ml/ 17fl.oz

Freight
Freight Prices
| | | |
| --- | --- | --- |
| | UK | Europe |
| £0-50 order total | £10 | £20 |
| £50-250 order total | £20 | £40 |
| £250+ order total | £20 | £40 |
Freight Times
| | | |
| --- | --- | --- |
| | UK | Europe |
| Standard freight | 2-3 days | 4-7 days |
- EU/Europe: May take extra time to clear customs in your country.
- Europe: the fastest freight times are to France, Holland, Germany
- Freight times are a guide only. Times may vary.

You might be interested in...