Table Cover
Table cover 50cm/ 20" diameter
About this pulpit cover for Arc water table:
We have discovered that most damage done to lectern and table tops is caused when the preacher is NOT preaching!
A cover will help to keep your table top scratch and dust free in between use. Made from high quality elastic edged cotton drill, a cover will help to prolong the life of your table. Highly recommended if your table has anti reflective film. Table cover 50cl/20" in diameter.
Download church lectern lifting and care brochure.
Table cover 50cm/ 20" diameter

Freight
Freight Prices
| | | |
| --- | --- | --- |
| | UK | Europe |
| £0-50 order total | £10 | £20 |
| £50-250 order total | £20 | £40 |
| £250+ order total | £20 | £40 |
Freight Times
| | | |
| --- | --- | --- |
| | UK | Europe |
| Standard freight | 2-3 days | 4-7 days |
- EU/Europe: May take extra time to clear customs in your country.
- Europe: the fastest freight times are to France, Holland, Germany
- Freight times are a guide only. Times may vary.

You might be interested in...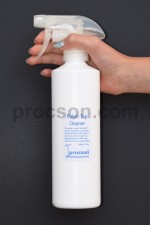 About this Pulpit Cleaner:

To prolong the life of and to clean your lectern and lectern table, we recommend you use Procson Pulpit top Cleaner.
It contains Kunstoff, the only cleaning fluid recommended by the Australian acrylic industry. Kunstoff is a German made anti static cleaning liquid. We do not recommend you using regular cleaners...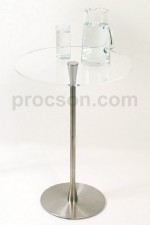 About this Arc Water Table:

This table is the choice companion to the Arc lectern.
Measuring in at 70cm/28" high, it is taller than a regular table which makes it more convenient to reach when you are preaching, than a regular side table. Most churches that purchase the Arc lectern also purchase this table. It is 70cm (28") high rather...